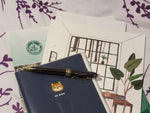 By Kailanianna Ablog
With summer coming to a close and students heading back to school, we at Lahaʻole Designs believe in finding strength from your roots and embracing new chapters. Whether the learners in your life are here in Hawaiʻi or returning to other places, here are our back-to-school picks! 
Liko Lehua Bar Necklace
From our Liko Lehua collection, our Liko Lehua Bar Necklace features the lehua bud and represents new growth or new beginnings. The lehua has a significant place in the islands, as it is an endemic plant and used in hula and other cultural practices. 

The flower is also connected to the story of the ʻōhiʻa tree. According to Love Big Island, the volcano goddess Pele came across ʻŌhiʻa, a handsome warrior who had pledged his love for a woman named Lehua. After Pele asked him to marry her, ʻŌhiʻa turned down the proposal and was turned into the ʻŌhiʻa tree. Lehua, ʻŌhiʻa's lover, was turned into the lehua blossom so they could be together forever. With the rise of Rapid ʻŌhiʻa Death, a fungal infection that leads to tree mortality, the liko lehua can also remind its wearer of the importance of mālama ʻāina (taking care of the land and its resources) and our role as stewards of the earth. 

Available in 14K Vermeil and Sterling Silver, the necklace has an adjustable cable chain that can stretch from 15 to 17 inches. As the students in your life continue their education journeys, wearing the Liko Lehua Bar Necklace can remind them of their ties to Hawaiʻi and to embrace growth as they start the new academic year. 
Oʻahu "Home" Tee
For the kāne (man/men) and wāhine (woman/women) who call The Gathering Place home, our Oʻahu Men's Tee and Women's Tee are hand-screened and come in Charcoal or Camo Green. Made of a blend of cotton and rayon, this top can be paired with their favorite shorts or pants as they travel between lectures or attend class virtually. It can also be worn on hikes or during workout sessions to help keep them healthy during the school year. Whichever scenario they choose to wear the shirt, the Oʻahu "Home" Tees make a great addition to their back-to-school wardrobe! 
Pīkake Lei Pillowcase
For students living away from home, our Pīkake Lei Pillowcases ensure they have a piece of the islands wherever they go. Available in ʻākala (pink), hinahina (gray), and poni (purple) and can be purchased with or without a pillow insert, our pillowcases are made of polyester and feature our custom pīkake print (which match perfectly with our pīkake blankets). With a timeless design, they can be used during any season and will match any room with a floral aesthetic. 
ʻIlima Dangles
Those that call Oʻahu home and love to accessorize will enjoy our delicate ʻIlima Dangles. Sold in 18K Vermeil or Sterling Silver, the dangles are made in the shape of the titular flower, which represents the Gathering Place. The 'īlima flower is edible and can be used as a mild laxative for babies according to Flower Leis; it is also a symbol of good luck, which can encourage any learner in their respective fields of study and/or work. Following a minimal design, our dangles match with almost any outfit and therefore, can be worn year-round if the wearer chooses to (we suggest pairing it with our Anuhea Shorts Romper in Black Naupaka). If someone you know loves the 'īlima flower, do consider gifting this to them as a back-to-school treat! 
Pīkake Lei Shower Curtain
Another great pick for those dorming or living on their own while attending school, our Pīkake Lei Shower Curtains can spruce up any bathroom space! Like our pillowcases, the shower curtains feature our custom pīkake print and measure 71" by 71". They are also machine washable on a delicate cycle and must be hung dry. Each order comes with 12 plastic hooks and is available in ʻākala (pink), hinahina (gray), and poni (purple).