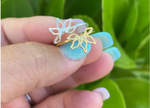 By Kailanianna Ablog
Part of our mission at Lahaʻole Designs is to highlight the beauty and elegance of native Hawaiian plants. In the first installment of our "Sharing Our Why" series, we would like to discuss the story of the naupaka shrub, which we have featured in our "Naupaka'' collection. Join us as we explore its significance in Hawaiian culture and how the existence of the plant encourages us to be mindful of how we interact with and take care of our spaces.
What is Naupaka? 
According to Hui Kū Maoli Ola, it is believed that there are nine species of naupaka, two of which can be found along the coast, and seven that grow in the mountains. We will be highlighting the following three: Naupaka Kuahiwi (Mountain Naupaka), which is endemic to all of Hawaiʻi except Niʻihau and Kahoʻolawe, Naupaka Kahakai, an indigenous species that can be locally found on almost every sandy or rocky beach, and Naupaka Papa, which is endemic, endangered and restricted to Maui and off-shore islets of Maui and Molokaʻi.
While each species of naupaka feature their own variations, such as the color of the flower and its fruit, the naupaka shrub is known for its green leaves and flower's unique appearance, with five petals growing as a half a flower. Hui Kū Maoli Ola also notes that the flowers of
Naupaka Kuahiwi
are used to make lei.
A Look at Culture: The Legend of Princess Naupaka 
The naupaka shrub is associated with the legend of Princess Naupaka, who fell in love with a fisherman named Kauʻi. In ancient times, love between royalty and commoners was forbidden. Forced to live apart, Naupaka was banished to the mountain and Kauʻi near the ocean. The website Hawaiian Words details that the naupaka shrubs saw the lovers' grief and in memorial of their connection, began to bloom in halves. If placed together, a full flower is formed. It is said by some that if you were to pick a naupaka flower from the beach and walk to the mountain or vice versa, the flower will die before your arrival; this is because Naupaka and Kauʻi can never be together again.
Honoring and Protecting Our Spaces
Hawaiʻi is known for its lush mountains and beaches, the two places where naupaka grows. According to Hui Kū Maoli Ola, naupaka that grows on the beach has a wind-breaking effect which causes sand to naturally collect around the shrub, thus creating sand dunes over time; however, due to off-road vehicles and invasive plants such as ironwood, naupaka and other indigenous species are put in danger. Off-road vehicles can harm endangered plants, and ironwood trees, which are used as windbreaks, prevent anything from growing beneath them.
The preservation and protection of naupaka extends to the general areas that it grows, especially the beach, where many congregate everyday. While the general public may not have the access and ability to plant native naupaka, there are actions we can take to ensure the longevity and health of our spaces. This includes picking up after ourselves and others, and using reef-safe sunscreen so we may safeguard the health of our neighbors in the ocean. For the mountain naupaka, thoroughly cleaning your shoes or boots before and after your hikes will aid in preventing the spread of invasive seeds to areas where native and endangered plants grow. Certain hiking trails have shoe cleaning stations that people can utilize. 
'Land is a Chief; Man its Servant'
Photo by Kailanianna Ablog, taken at Hawaii Kai Towne Center
Educating ourselves about native plants and the ways we can retain and reconnect with the ʻāina (land and sea) are integral to preserving the spaces we live in and occupy. Reading about the land's history and supporting groups that educate and protect the environment are some of many ways we can do this. Community-based organizations such as the Mālama Loko Ea Foundation and Paepae o He'eia are dedicated to the perpetuation of stewardship through the act of restoring natural resources, such as ancient Hawaiian fishponds. Both organizations offer tours and host Community Work Days where the public can volunteer. Due to COVID-19, safety measures are being taken and people are encouraged to comply to ensure the safety of all those participating. 

Hawaiʻi is a beautiful place and home to many. Just as the ʻāina provides for its people, we must also be aware of and willing to take care of it. Whether you live in Hawaiʻi or are visiting us from elsewhere, keeping our spaces clean and respecting those that are and will occupy the spaces is the first step in ensuring harmony between the land and those that reside upon it. 
About 'Sharing Our Why'
Photo by Kailanianna Ablog, taken at Ka Papa Loʻi O Kānewai in early 2020.
The center of Lahaʻole Designs' values is "home." Through our "Sharing Our Why" series, we seek to share the unique stories of Hawaiʻi, its complex history and the importance of sustainability when it comes to preserving and honoring our communities. Each month, we will highlight various aspects of our brand and how it connects to Hawaiʻi as a whole. We hope this series will enlighten and educate those who would like to learn more about our islands and highlight the resilience and power that is deeply rooted within this sacred space.