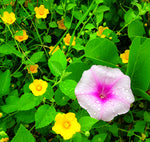 Written by Kailanianna Ablog + Photo Cover Courtesy of Rick Barboza from Hui Kū Maoli Ola 
Whether a move toward self-sustainability or an act of self-care, gardening is a beloved pastime for many people. Hawaiʻi's warm and sunny climate makes it an ideal place to grow various plants, especially those endemic to the island chain. If you are looking to better incorporate mālama ʻāina (to take care of the land and sea) into your daily routine or want to expand your knowledge about Hawaiian plants, here are a few of our favorites!
ʻŌhiʻa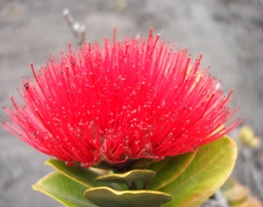 For some, having trees in your garden is a must, so why not consider the ʻōhiʻa plant? According to Hui Kū Maoli Ola, ʻōhiʻa  is commonly found at higher elevations. It is endemic to all islands except Niʻihau and Kahoʻolawe, and its blossom, the lehua, blooms in a variety of colors such as  lehua 'apane (dark red) and lehua mamo (yellow). Hui Kū Maoli Ola further details that the wood of the ʻōhiʻa tree, where the lehua blossom grows, was used for house construction and gunwales of canoes, and the lehua is used to make lei. 
Unfortunately, this native plant is at risk of Rapid ʻŌhiʻa Death (ROD). As stated by the Hawaii Invasive Species Council, ROD is a fungal pathogen with two species known as ROD canker disease and ROD wilt disease that lead to tree mortality. The College of Tropical Agriculture and Human Resources CTAHR) at the University of Hawaiʻi at Mānoa offers a few ways to prevent ROD, including cleaning all gear and tools before and after entering forests, and ensuring all mud and soil has been washed off your vehicle(s). Local non-profits such as the ʻŌhiʻa Legacy Initiative seek to raise awareness of the ʻōhiʻa tree and work to preserve the native plant. 
For those interested in planting ʻōhiʻa in their gardens, Hui Kū Maoli Ola says you may plant it anywhere, and should be watered daily in well-drained soil for up to three to four months. Afterward, watering can occur every two to three days unless you are in a dry area. Before you plant ʻōhiʻa, be sure to keep in mind that it can grow to about 15 to 30 feet tall. Pruning can control the growth but will stimulate bushiness. 
ʻŌlena
Known as Hawaiian turmeric, ʻōlena was introduced to Hawaiʻi from Polynesia and can be found on all islands (usually in mesic valleys) except Kahoʻolawe, as mentioned by Hui Kū Maoli Ola. The native plant nursery notes that the herbaceous, deciduous plant is not as common today, and features dark green leaves that can grow up to four feet in length and one white or purplish-white flower, made up of tinier flowers, in its center; this flower is  "highly fragrant." The ʻōlena plant also has medicinal purposes, as its rhizomes can be used to treat ear or respiratory infections; it can also be used as a dye and in food. Various products use ʻōlena, including beauty oils, as seen with Honua Hawaiian Skincare, and balms. 

If one plans to add ʻōlena to their gardens, Hui Kū Maoli Ola suggests planting it in rich, moist soil in partially shaded or full-sun areas among perennials, as it will lose its leaves for two to three months at a time. 
'Ilima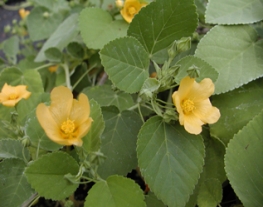 Stated by Hui Kū Maoli Ola, 'ilima, also known as Black Coral, is a native plant that can be found throughout the island chain. The shrub has many varieties and its flower can be eaten, used to make lei and for medicinal purposes. Hui Kū Maoli Ola further details that each 'ilima variety has its own characteristic. For example, mountain varieties tend to have "a pointed apex on the leaf tip," while coastal varieties can have velvet-like hairs on their leaves, which "reflect sunlight and prevent the plant from drying out." Those living on Oʻahu may have a liking to this native plant, as it represents the Gathering Place. 

According to CTAHR's Hawaiian Native Plant Propagation Database, 'ilima can be grown from both a seed and cutting, and Hui Kū Maoli Ola recommends planting it in an area with full sun exposure in order to get the maximum amount of flowers. When new growth is spotted, it should be watered less; this will also assist in keeping bugs away. This native plant can be planted as a hedge or on its own.
Pīkake
Also called jasmine and known for its scent, the pīkake flower is often used to make lei. In a report by the CTAHR, the name "pīkake," which came from the word "peacock," was given to the flower by Princess Kaʻiulani. The report further details that there are four distinct varieties of the flower, with the white-petaled, single-flowered variety being most commonly used in lei making. 

To integrate pīkake into your garden, the CTAHR states that the plant grows best in dry and full-sun areas with "rich loam, silty clay loam, or sandy soils with irrigation." Hot weather and long days encourage the growth of large flowers, whereas partial shade can lead to less flowers. The months of November through January are best for pruning and can stimulate more branches to grow; this is vital if you want more flowers because pīkake "produces flowers only on the terminal ends of new growth."
'Ihi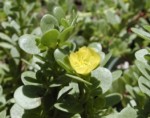 Stated by Hui Kū Maoli Ola, ʻihi is an herb indigenous to northwestern Hawaiʻi, Oʻahu, Molokaʻi, Lanai, Maui, and Hawaiʻi. Known for its "tightly arranged, alternating leaves" and a cluster of yellow flowers at its top, ʻihi is succulent-like and can be a perfect option for those who want to bring a piece of their garden inside. In nature, the plant can be found "on coastal and strand habitats." 
If you plan to bring ʻihi into your space(s), Hui Kū Maoli Ola suggests placing it in an area with full sun and limited watering; the ground should be soaked and allowed to drain and dry out. In its best state, the plant will not be bothered by pests as much as ʻihi that is watered daily; if watered everyday, the plant will become "soft" and attract more pests.