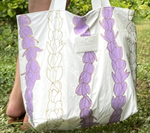 Written by Kailanianna Ablog
Summer is in full swing, and here at Laha'ole Designs, we are enjoying family time and having some fun in the sun. From farmers market visits to volunteering at the lo'i (taro patch), the season offers many opportunities to give back to our communities and support local and indigenous-owned brands. If you are looking to expand your collection of locally-made goods or keeping an eye out for gifts for friends with summer birthdays, here is our list of summer picks! 
Available in ʻākala (pink), hinahina (gray), and poni (purple), our Pīkake Lei Microfiber Towels are the perfect addition to your adventure bag. With its quick drying and sand proof qualities, this pick is versatile and can suit many of your traveling and summer needs. From a sitting mat to a pareo, our Pīkake Towels are lightweight, fold up small, and hold the elegance of the pīkake flower in each piece. 
Our Anuhea Shorts Romper makes a great choice for summer date nights! Featuring eco-friendly coconut buttons, adjustable straps and pockets, the romper is made of cotton and spandex and has a slimming effect. The Black Naupaka print is inspired by the legend of Princess Naupaka, who was torn apart from her lover, a fishman named Kau'i, due to their forbidden love. The princess was forced to live in the mountain, and Kau'i by the ocean. The naupaka shrub, which grows as a half-white flower, symbolizes their separation. If you love comfortable clothing with designs that incorporate cultural and historical stories, the Anuhea Shorts Romper in Black Naupaka deserves a spot on your list of summer picks. We also have a matching aloha shirt for the kāne (man/men). 
Kānaka Maoli (Native Hawaiians) believe that salt water heals and cleanses. With our first collection "Kai Nalu," we sought to capture the peaceful energy of the ocean in our Kai Nalu 'Elua Earrings. Available in sizes medium  (1.5 inch) and large (2 inch) and made with 14K Vermeil or Sterling Silver, these hoops are delicate and textured to enhance its shine as you bask in the warmth of the sun. Our Kai Nalu 'Elua Earrings will make a beautiful addition to your jewelry stand and may snag a spot on your list of summer picks. 
A durable accessory can make or break summer adventures. If you plan to visit the beach or travel (safely) via airplane, our Aloha Collection collaboration bags may be the piece that completes the puzzle. Featuring our Pīkake Lei prints in Wana'ao Nui, Welo Nui, Wana'ao 'iki and Welo 'iki on Aloha Collection's splash-proof Mini Pouches and Day Tripper totes, these bags will protect your belongings from spills, splashes and surprise rain showers. The Mini Pouches work best for bare essentials, such as your phone and keys, and have a sleek, small design. The Day Trippers have an expandable full zipper top for maximized space, two interior zip pockets, and an outside zipper pocket for your plane tickets and ID/passport. Whatever your needs, you are bound to find a Laha'ole Designs x Aloha Collection collaboration piece that best fits you! 
According to
Hui Kū Maoli Ola
, the
kupukupu
fern is indigenous to Hawaiʻi, and culturally used to decorate hula altars to signify "...a place of learning, or sprouting knowledge…" A part of our
Kupukupu collection
, our Kupukupu rings are adjustable and symbolize growth and resilience, especially during these current times. Available in base sizes 4 and 7 and made in 14K Vermeil or Sterling Silver, the rings are a statement piece that can add a deeper meaning to your outfit of choice. If you are looking to add accessories that carry a specific meaning, consider adding the Kupukupu Ring to your list of summer picks.