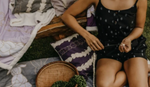 Written by Kailanianna Ablog
In the wake of 2020, and continuing into 2021, the notion of community and self-care have become vital aspects of maintaining our mental health. With uncertainty around global health and safety, learning when to take a step back and rest is important. Here at Lahaʻole Designs, we want to encourage everyone to make time for and prioritize themselves. If you are looking for ways to incorporate self-care into your routines, here are some ideas!
Snuggle & Sleep
Pīkake Lei Blanket in Hinahina (grey)
Who doesn't love a good nap? According to the Centers for Disease Control and Prevention, adults between the ages 18 and 60 are recommended to get seven or more hours of sleep per day. With school, work and other obligations, getting a decent amount of shuteye can be difficult; however, regardless of how busy you may get, you are still worthy and deserving of a good night's (or afternoon's) rest. Using your favorite pillow and our comfy, cozy and fluffy Pīkake Lei Blanket, lean back against your couch or bed, take a few deep breaths and allow yourself to fall asleep. Your mind and body will thank you for it!
Cook a Meal 
Pīkake Bamboo Charcuterie Board
With the hustle and bustle of work and school, grabbing take-out can become routine; however, nothing beats a nice, warm, home-cooked meal. Whether you have a go-to recipe or want to explore new tastes and flavors, cooking a meal with loved ones can be a fun, rewarding experience. Using our Pīkake Bamboo Charcuterie Board, which can also be used as a cutting board, you can prepare and dress up your meal in any way that you'd like. Once cooking is complete, be sure to sit down and enjoy! 
New to charcuterie but want to try your hand at it? Check out this guide by AllRecipes by Vanessa Greaves that features tips from Nicole McLaughlin, a Culinary Producer for the platform.
Treat Yourself
Kai Nalu Lariat with Tahitian Pearl
Another form of self-care includes treating yourself to something sweet. Those with a sweet tooth may enjoy a nice slice of cake or boba (bubble tea), and nature lovers may like a nice stroll or hike. Buying yourself something nice to wear or use also counts. From a new pair of shoes to jewelry, like our Kai Nalu Lariat with Tahitian Pearl, it's important to remember that it's okay to spend money on yourself once in a while, especially if you tend to place others' needs and wants before your own.
Stay Hydrated
Keeping your body hydrated is a simple but effective way to ensure you are taking care of yourself. From fresh juice to the staple H20, consuming liquids help your body to work as optimally as possible. Using your favorite glass or tumbler and our Pīkake Marble & Wood Coasters, fill up on your drink of choice and take a breather. 
Dress Up
 Naupaka Dangles with Tahitian Pearls
With constant work tasks and busy schedules, it can be difficult to remain confident and feeling up to speed. While rest and time management can assist, sometimes dressing up (no reason needed) can be that energy boost you need to remain grounded with your head held high. Go ahead and wear that fancy top as you work from home or be a little "extra" with your accessories one day (may we suggest our Naupaka Dangles with Tahitian Pearls?). At the end of the day, what matters most is that you feel good in your skin and never forget that all that is meant for you is already on its way.