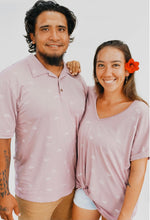 Written by Kailanianna Ablog
February is known as the Month of Love, and we at Laha'ole Designs want to remind you that you, and those around you, deserve love - not just this month, but always! One can express love in many ways, and some ways convey the message of love more clearly than others. What can make an expression of love more effective than others is a term coined by author Gary Chapman: love language.
According to the "Five Love Languages" website, the titular book is one of Chapman's most popular works and focuses on the ways in which "different people with different personalities give and receive love…" By understanding your love language and the love languages of your loved ones, "you can learn to identify the root of your conflicts, connect more profoundly, and truly begin to grow closer." Chapman has crafted a variety of books on the subject, including love language books for teens, singles and those in the military. 

The five love languages are as follows: Quality Time, Acts of Service, Words of Affirmation, Physical Touch and Receiving Gifts.  Join us as we explore these love languages and how you can speak the love language of your loved ones this month! 
Quality Time 
As explained by "The Five Languages," quality time is described as "giving the other person your undivided attention." If you or your loved one(s) love language is quality time, then it is likely that you feel the most loved when you are spending (uninterrupted time) with those you care about. Examples of spending quality time together including having a one-on-one conversation with each other or enjoying adventures out on the town together. This year, consider taking the "Quality Time" love language speaker(s) in your life on a picnic with our Naupaka Cooler Bag (available in black and purple) or create a special meal together using Laha'ole Designs kitchen goods like our Pīkake Bamboo Charcuterie Board and Paʻi Stick Set. 
Acts of Service
For those who speak the love language of "Acts of Service," the expression of love is best conveyed through the actions done. From offering to pay for gas to cooking dinner for the night, Acts of Service show the love language speaker that your love for them goes deeper than words. One of our missions at Laha'ole Designs is to share Hawaiian culture with the world, and an act of service that can be done within our communities is to volunteer at a loʻi (taro patch) or local fishpond as a means of aloha ʻāina, or the act of taking care of the land. If your loved one(s) consider "Acts of Service" their love language, some other ways to show your love through action include cooking lunch for them to take to work (may we suggest doing so using our Pīkake Lei Pot Holder Set?) and packing it away (with our eco-friendly Bamboo Cutlery Set) to make sure they don't go through the day without some sustenance. 


Words of Affirmation
When your love language is "Words of Affirmation," it is likely that you feel the most loved when you are told directly that you are appreciated and respected. If your loved one(s) speaks "Words of Affirmation," consider describing your "thank yous" and compliments this year. An example of this could be explaining why you love how they go about doing things: "Thank you for checking in on me. I appreciate how you always think of others, and I hope you know I care about how you are doing, too." 
Physical Touch
The love language of "Physical Touch" is as its title suggests: someone who's love language is Physical Touch is (likely) the hugger and cuddler in your life! From hand holding to wrapping an arm around the waist while standing together, physical touch is, quite literally, one of the most touching things you can do. If your partner is a proud "Physical Touch" speaker, be sure to initiate more hugs and cuddles. You could also snuggle together during movie nights with our Pīkake Lei Blanket or offer to give them a much deserved shoulder massage after a long day at work on our Pikake Lei Comforter in Hinahina (Gray). 
Receiving Gifts
Nothing speaks of love more than receiving a heartfelt gift, and those who have "Receiving Gifts" as their primary love language know this very well. Being given a gift equates to being thought of and so loved that someone wanted to treat them to something, whether that be a functional present (such as something they needed, like a new phone case or earbuds) or a sweet treat, like bubble/boba tea. If you love someone whose primary love language is "Receiving Gifts," consider treating them to some gifts they could use throughout the year, such as bags from our Aloha Collection, or match with them by looking through our Naupaka Clothing line, which has apparel for women, men, and children (currently youth shirts and dresses).