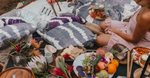 Written by Kailanianna Ablog 
The holidays are fast approaching, and we at Lahaʻole Designs are excited to share in the cheery festivities! The last few months of the year bring opportunities of connection with ʻohana and friends alike, and we hope your holiday season is full of fun and abundance. Interested in starting your holiday shopping, but unsure of how or where to start? We hope our 2021 Holiday Gift Guide can offer some inspiration! 
A Place For Rest: Home Is In The Heart 
If 2020 and 2021 have taught us anything, itʻs the importance of stepping back and taking a rest. For those who call the islands home and/or have moved to other places for work or school, remembering and honoring our roots in our homes can bring a sense of warmth. Our minky Pīkake Lei Blanket and pīkake print pillowcases, available in ʻākala (pink), hinahina (gray), and poni (purple), make a perfect combination for any island-inspired bedroom or dorm space! Being surrounded by pīkake as you take a load off in-between classes or after work will certainly help bring the beauty of Hawaiʻi to you and your family. Add these with any floral print or ceramic flower vase, and you are on your way to curating the perfect island-inspired home bundle! If you know someone who loves the pīkake flower and seeks to create an island-inspired home, consider adding our blankets and pillowcases to your holiday gift guide! 
For The Ones On The Go 
We all have someone in our lives that are all about the hustle and bustle, so why not gift them something that is both functional and elegant? Our Aloha Collection collaboration bags, for example, are equipped with Aloha Collectionʻs waterproof material and our original pīkake lei print, making them perfect for all your adventures on land and sea. Consistent beach-goers and/or those with pets or keiki may also love our Pīkake Lei Microfiber Towels, which are sandproof and quick-drying.
Pair these items with a reusable water tumbler or activewear set for the best holiday bundle for the adventurers and go-getters in your life.
Cookinʻ Up Good Vibes
Food plays an integral role in Hawaiʻi local culture, and we all have that one family member who loves to cook ono grinds! Help add more island flair to their kitchens by gifting them our Bamboo Charcuterie Board, Pīkake Lei Cork Board and Marble and Wood Coasters. Alongside our kitchenware, feel free to treat them to a new utensil or knife set - and donʻt forget to make them their favorite dish sometime this holiday season, too. If you have a beloved chief or cook in your life, feel free to add these products to your personal holiday gift guide! 
Put A Sparkle In Their Eyes 
Jewelry is our staple here at Lahaʻole Designs, and we are committed to help the accessory lover in your life find another statement piece. For those who love earrings, our Tahitian Pearl Threaders would be a perfect addition to their brunch or dinner date outfit. Our necklace lovers will enjoy our Pīkake Manini Bar, which features our hand carved pīkake pendants and adjustable cable chain. Last, but definitely not least, our lovely ladies who accessorize down to their wrists could find their new favorite bracelet with our 14 gauge Champagne Hearts, which has an authentic pearl and hand-formed wire heart. Keep jewelry in mind for the accessory stylists in your life, and be sure to give them another reason to have a sparkle in their eyes this holiday season. 
Where You Go, I Go: Matching Family Sets
Supporting and uplifting the family is one of our core values, and we want to make sure we offer something for all members of your ʻohana. With our original naupaka prints, we have various styles for the wahine, kāne and keiki - and give them the opportunity to match, as well! For our lovely mamas and ladies, our Anuhea Shorts Romper in Black Naupaka, Pili Knot tee and Lani Dress are eco-friendly and meant for everyday wear. Our kāne can match with their wahine by sporting either our Naupaka Aloha Shirt or Holoholo Naupaka Polo. The little wahine can wear our adorable Lani Keiki dress, which is perfect for Sunday brunch or over a swimsuit for family beach day. If you know of a family that would rock our naupaka prints, consider adding some of our apparel options to your holiday gift guide!