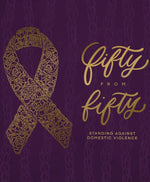 Written by Kailanianna Ablog & Event Poster by Kea of Kakou Collective
Family is one of our foundations here at Laha'ole Designs, and we believe that all people deserve to feel safe and cared for within their communities. October is Domestic Violence Awareness Month, and for this segment of "Sharing Our Why," we want to highlight our 50-from-50 Auction, which seeks to raise money for the
Domestic Violence Action Center (DVAC)
and
Parents and Children Together Hawaiʻi (PACT)
.
Our Reason For The Auction 
We first held the 50-from-50 Auction last year in 2020 when our owner, Tanya, wanted to do something positive in response to the increase of domestic violence during the pandemic.
According to a report by The Office of Hawaiian Affairs, Lili'uokalani Trust, and Kamehameha Schools' Strategy & Transformation Group, the DVAC hotline reported " a 46% increase in contacts during the COVID-19 crisis, from the late March to October 2, 2020." While this was occurring, "DVAC's provision of legal information to domestic violence survivors increased by 22% and safety planning services decreased by 38%." 

The report continues to state that the lockdowns caused by the pandemic forces domestic violence survivors "to stay in the home or in close proximity to their abuser more frequently," meaning that "an abuser may take advantage of the already stressful situation to exert control over their victim." 

According to DVAC, any person can be a victim or perpetrator of domestic violence. Many domestic violence victims "are most often female," but this is not always the case. They also mention that abuse in any form, including but not limited to "physical violence, verbal abuse, psychological tactics-including intimidation and degrading...and sexual assault," can "create risk and danger in love relationships." Abuse can look different in every connection, and the victims are never alone and never at fault.

We are a year and seven months into the COVID-19 pandemic, and it's important to continue supporting each other in any way that we can. For this reason, we chose to continue our 50-from-50 Auction this year. We will be working with small, local businesses here in Hawaiʻi to curate a collection for this auction, with all proceeds going to two specific organizations: DVAC and PACT.  While we cannot fully capture the good work they both do in this blog post alone, we'd like to offer a brief overview of the support and mālama they give to the communities here. 
The Domestic Violence Action Center (DVAC)
Based on and guided by the values of "justice & equality, respect & dignity, collaboration, and compassion," DVAC is "committed to addressing domestic violence and other forms of harm" and "the only agency in Hawaiʻi that "that accepts large numbers of high-risk divorce, temporary restraining order, post-decree, and paternity cases." 
We believe in the power behind community and collaborative work, and DVAC's highly trained staff actively work within several spaces, including committees "coordinated by government agencies such as the Department of the Attorney General, The Department of Education and The First Judicial Circuit" and with associations and agencies such as "The Hawaii State Bar Association, The Hawaii State Coalition Against Domestic Violence, The Women's Fund, and Hawaii Women Lawyers." 

The action center provides services to all those who need them. DVAC  can accompany survivors to court, assist with legal presentation, offer immediate support in the event of a crisis, and help with developing safety plans and gaining referrals for community services, among other services.  

They also provide several programs to assist folks and give access to different resources. In this post, we'll discuss a few, starting with DVAC's Teen Alert Program (TAP), which is geared toward educating teenagers and adults on various aspects of relationships, such as gender roles and dignified consent, as well as offers "one-on-one individualized advocacy support" for folks experiencing teen dating violence. Along with workshops and training, TAP is also a prevention and intervention program. Another program, Alaka'i Advocacy, seeks to support "battered women as they navigate their way through complex systems" including the courts, immigration, and social service agencies. 
Their Pulama I Ka 'Ohana (PIKO) and Ho'oikaika 'Ohana programs are centered on family healing through support and cultural practices. PIKO participants gain access to therapists, counselors, and an attorney and a paralegal, as well as support groups to assist on the journey to healing and safety. 

Those in the Ho'oikaika 'Ohana program will go through the HO'O curriculum, which "combines the Complex Trauma Model of Dr. Carole Warshaw with traditional Hawaiian values that reflect harmony, balance, healing and positive parenting" over a nine-month period. 

The program consists of three phases: Lehua 'apane (Red Lehua blossom), which focuses on building relationships and exploring shared goals, Lehua mamo (Yellow Lehua blossom), which incorporates weekly meetings with extended family members and cultural activities, and Phase 3, Lehua mamo 'o 'a 'alani (Orange-red Lehua blossom), where survivors and their children "heal and re-establish strong communication" in tandem with weekly meetings and cultural activities. The program concludes with a ho'ike (celebration) including "food, flowers, traditional dress, music and dance."  

For more information on all that DVAC offers, we highly encourage you folks to visit their website and social media platforms and share their resources with those who need them. 
Parents and Children Together (PACT) 
Photo Courtesy of PACT and photographed by Harold Julian
Our 50-from-50 Auction also seeks to raise funds for PACT, an organization that has been active in the islands since 1968. Connected on a mutual goal "to create safe and promising futures," especially through the promotion of "meaningful and healthy relationships between parents and children," they base their actions on the values of respect, collaboration and excellence. They also seek to make sure they use an informed approach, incorporate holistic care and are future focused. 
PACT offers the community a plethora of services that are focused in five specific areas: Early Childhood Education, Behavioral Health Support, Domestic Violence Prevention & Intervention, Community Building & Economic Opportunities, and Family Strengthening Services.

For Early Childhood Education, PACT allows families access to Early Head Start (EHS) and Head Start (ES), federally funded initiatives that "provide early childhood education and related comprehensive services for low-income parents and children, and children with special needs." EHS is tailored toward prenatal parents and parents with infants and/or toddlers, while ES focuses on children ages three through five and their caregivers. The EHS/ES program "is a free comprehensive child development program" and available on Oʻahu and Hawaiʻi Island. For eligibility and specific services within EHS/ES, please refer to the PACT website. 

The organization also assists with the islands' mental health needs through their Behavioral Health Support, available on Oʻahu, Maui, Molokaʻi, and Kauaʻi. Their intensive support services assist "families and youth with serious behavioral, social and emotional challenges." For families affected by domestic violence, PACT's Domestic Violence Prevention & Intervention program includes various peace centers, shelters, visitation centers and a statewide Trafficking Victim Assistance Program. For island-specific locations, you may refer to PACT's "Domestic Violence Prevention & Intervention" tab. 

For families in communities of poverty, PACT's Community Building & Economic Opportunities programs seek to achieve "positive outcomes" and create "a cohesive and vibrant community." Family Centers, Community Teen Programs, a Poverty Prevention and Workforce Success initiative, and their Economic Opportunity Center aim to help communities understand the causes of poverty, assist with securing and keeping employment, and provide family skill building. Last but not least, their Family Strengthening Services "help Hawaii families through early intervention programs that positively impact the lives of children in Hawaii." 

For more information on all that PACT offers, as well as island-specific programs and eligibility, please visit their website. 
Resources 
For those who need emergency services, call 911. People seeking assistance from either/both DVAC and PACT may refer to the following phone numbers and mailing addresses: 
DVAC
PHONE NUMBERS:
Oahu Helpline: (808) 531-3771
Toll-Free Helpline: (800) 690-6200
Administration: (808) 534-0040
Fax: (808) 531-7228
MAILING ADDRESS:
Domestic Violence Action Center
P.O. BOX 3198
Honolulu, HI 96801-3198
PACT 
Administrative Office
1485 Linapuni Street, Suite 105
Honolulu, Hawaii 96819
Phone: (808) 847-3285
Fax: (808) 841-1485
Email: admin@pacthawaii.org
Please note each organization also has various resources listed on their websites.