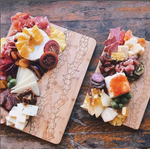 Written by The Laha'ole Team & Organized by Kailanianna Ablog
From potlucks, BBQs and parties, a common community bonding activity is eating. The holidays bring opportunities for families and friends to (safely) reconnect at small gatherings, which means our hearts (and stomachs) will be full of happiness, love and ono grinds! For this blog post, the Laha'ole Team wants to share with you some of our favorite recipes. From a dessert made with locally grown fruit to a popular Puerto Rican dish, we hope that by sharing our recipes (and the stories behind them), we can encourage you folks to one, give these recipes a try, and two, share some of your favorite recipes with us, as well!
------
Lilikoi Pie - Submitted by Nicole (The Creative Mind Behind Our Graphic Designs)
Photo Courtesy of Nicole
The Story:  "My papa used to make these pies with the lilikoi he picked in Hana, Maui."
Ingredients: 
Pie Crust 

1/2 to 2/3 cups Lilikoi Juice strained (30 lilikoi)

1 cup sugar

1 tbsp. Knox Gelatin (unflavored)

4 eggs separated

8 oz cool whip
How To Make: 
Mix yolk, then put in a double boiler with all of lilikoi juice.

After hot, pour in ½  cup sugar.

Mix egg whites with mixer, then slowly pour the last ½ cup of the sugar.

Mix 2 mixtures slowly, then add 8 oz cool whip.

Pour the combined mixture into your pie crust.

Put in fridge for at least 2 1/2 hours
------
Gandule Rice - Submitted by Megan (The Savvy Gal Who Runs Our Social Media)
The Story:
"My great grandma made this, my grandma, and now my mother; I hope to perfect it someday. At every birthday, Thanksgiving, Christmas, or any other celebration, there's your pot of white rice by your pot of gandule rice. My grandma made it recently for the anniversary of my great grandma's passing on November 11th, but I wasn't home to enjoy it. This blog has definitely encouraged me to try making it myself for the holidays on my own!" 
Ingredients: 
1 lb Pork - cubed in 1" squares

1 bunch Cilantro - finely chopped

1/2 Can Goya Brand Green Pigeon Peas (Gandules Verdes)

1 Can Tomato Sauce

5 Cups White Rice 

1/2 Can Black Olives 

2 Cloves Garlic, finely chopped

1 1/2 Tablespoons Olive Oil

Salt, to taste

1/2 Tablespoon Cumin

1/2 Tablespoon Oregano Leaves

1 1/2 Tablespoon Achiote Seeds 

1/2 Tablespoon Curry Powder

1/4 Cup Vegetable Oil
Recipe Based on carvalhohm's recipe on the website "Key Ingredient" (linked here); the list of ingredients has been edited to reflect how Megan's family prepares the dish.
 ------
Hōʻiʻo Salad - Submitted by Tanya (Laha'ole Designs' Founder and Owner)
The Story: "It's hard to get the fern, but when we get luck at the farmers market it's a family fav! It's also known as Pohole (Maui) and Warabi (Hilo); we also just learned it is a native fern."
Ingredients: 
1 bunch Hōʻiʻo

1 onion

3 tomatoes

1 roll kamaboko (we prefer it not be on a wood block)

1 Tbsp Sesame Seed Oil

1 tsp Hawaiian Salt
How To Make: 
Boil a large pot of water

While water is warming, rinse and cut Hōʻiʻo stems in 1-2 inch pieces. Set aside.

Dice tomatoes and set aside.

Slice onions and kamaboko and set aside.

Blanch Hōʻiʻo in boiling water for 3 minutes and strain, do not cool.

Mix warm Hōʻiʻo and onions and let cool.

When cooled add sesame seed oil, salt, tomatoes, and kamaboko.

Serve and enjoy!
------
Brownie Cookies - Submitted by Kai (Blog Writer & Email Marketer) 
Photo Courtesy of Kai (Taken via Snapchat)
The Story: "My mother loves to bake, and I remember that she would be in charge of desserts for every BBQ and family party we had when I was growing up. She taught me this recipe when I was starting high school, and I am sure there are renditions of it out there. I'm not an avid fan of chocolate (I have a chocolate sensitivity), though I love making sweets that include it. Along with pumpkin brownies and brigadeiro, I would make these cookies for my friends on their birthdays and bring them for bake sales in college and class potlucks. It's a fairly simple recipe, and I hope you love it if you decide to try them out!" 

Ingredients: 
1 Bag of Ghirardelli Double Chocolate Brownie Mix 

Note: I have only used Ghiradelli's Double Chocolate Brownie Mix for this recipe, but you are welcome to try another mix of your choice.

1 egg 

¼ cup oil 

⅛ cup water 
How To Make: 
Preheat your oven to 350 degrees Fahrenheit. 

Prep your cookie sheet(s); grease or butter the sheet(s) if needed.

Pour your brownie mix into a large bowl. 

Optional: Use a mesh strainer and spatula to sift the mix to reduce clumps. 

Create a hole/crater shape in the center of the mix using a spoon or other utensil. You will be adding the wet ingredients into it. 

Add in your oil, water and egg and mix together until incorporated. The batter will be thick and have a lava-like consistency if lifted and allowed to drop back into the bowl. 

Using spoons, scoop the batter and form the dough into balls. 

Place each dough ball on your cookie sheet. Be mindful of how large or small you make them, as they will expand and flatten in the oven. 

Once the sheet(s) are full, bake for 8 to 10 minutes. 

Once done, allow the cookies to cool (min. 1 hour) and enjoy.