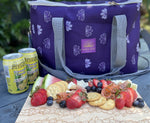 Written by Kailanianna Ablog
Can you believe it's already December? With 2021 quickly coming to a close, we at Laha'ole Designs want to reflect on the growth and wins made this year as a small, mama-owned, Made in Hawai'i business by highlighting the best sellers of our 2021 collections and restocks! 
Naupaka - Clothing & Home Goods 
The naupaka shrub is known for its unique appearance and deep connection to Hawaiian culture. According to Hui Kū Maoli Ola, it is believed that there are nine species of the indigenous plant, two that can be found on most beaches and seven that grow in the mountains. This indigenous shrub collectively is known for its petals, which grow as half of a flower. The reason why naupaka grows this way is explained by the legend of Princess Naupaka and her lover, Kauʻi. In ancient times, royalty and commoners were forbidden from being together, so Naupaka and Kauʻi were separated from each other; Naupaka was forced to live in the mountains and Kauʻi by the ocean. The website Hawaiian Words details that the naupaka shrubs saw how heartbroken the partners were, and to commemorate their love, started to bloom in halves. This way, if two naupaka flowers were placed together, a full flower would form.
We introduced new items into our much-loved Naupaka collection: new apparel, cooler bags and limited edition Naupaka Quilt ornaments. 
Best Sellers from this Collection: 

Aloha Collection x Laha'ole Designs Collab Bags 
When women support women, beautiful things happen, and thus our original Pīkake Lei Print met the water proof
Aloha Collection bags
! Featuring our Pīkake Lei design in Welo Nui, Welo 'iki, Wana'ao Nui and Wana'ao 'Iki, these collaboration bags, that come in
Day Trippers
,
pouches
and
hip packs
, are perfect for both everyday use and travel! 
Pīkake - Restocks & Home Goods
Our Pīkake collection is one of our most popular collections, featuring various accessories, kitchen goods and microfiber towels. The pīkake flower, also known as jasmine, was named by Princess Kaʻiulani, according to a report by the College of Tropical Agriculture and Human Resources CTAHR) at the University of Hawaiʻi at Mānoa. The word "pīkake" means "peacock," and the blossom's scent is well-loved by many. When making lei, pīkake is often used, especially its white-petaled, single-flowered variety. With our collection, we wanted to capture the beauty of the pīkake and how its scent brings us all back home - to Hawaiʻi.
We welcomed a restock of our Pīkake Lei Blankets (perfect for the holidays and places with colder climates), as well as a new member of our Pīkake Lei home good line-up: our Comforters (currently taking pre-sales). 
Best Sellers from this Collection:
We would not have been able to make it this far without all of your support! Thank you always for shopping small and supporting local, mama-owned, Hawaii-based businesses. We look forward to growing with you all this next year and releasing new collections (with the next one coming in Spring 2022). Here's to a beautiful end to 2021 and an abundant start to the new year.